One of the biggest traditions in wedding history is that the person popping the question purchases the engagement ring. In fact, a study by theknot.com found that 94 percent of proposers pay for the engagement ring.
But a more nuanced question faces many brides and grooms—who buys the wedding bands?
As an experienced team at Marinaj Banquets & Events who has seen hundreds of proposals, weddings, and receptions, we're here to provide you with answers and give you one less thing to worry about on your wedding to-do list.
Wedding Band Traditions
In today's age, traditions that were once considered essential have changed over time. This is good news for modern brides and grooms who have more freedom than ever before to do things in a way that makes sense for them.
Cultural Differences
There are a lot of cultural differences when it comes to wedding traditions; therefore, who pays for the wedding bands may fluctuate from culture to culture.
Traditionally, in American culture, a bride and her family purchase the groom's wedding ring. The same principle applies for the groom and his family to pay for both the bride's engagement and wedding ring. The wedding band is added to the engagement ring once the couple is married.
Other cultures may treat rings differently. In Brazil, for example, grooms often purchase matching rings, and he and his bride wear them on their right hands until they are married, at which time the rings are moved to their left hands.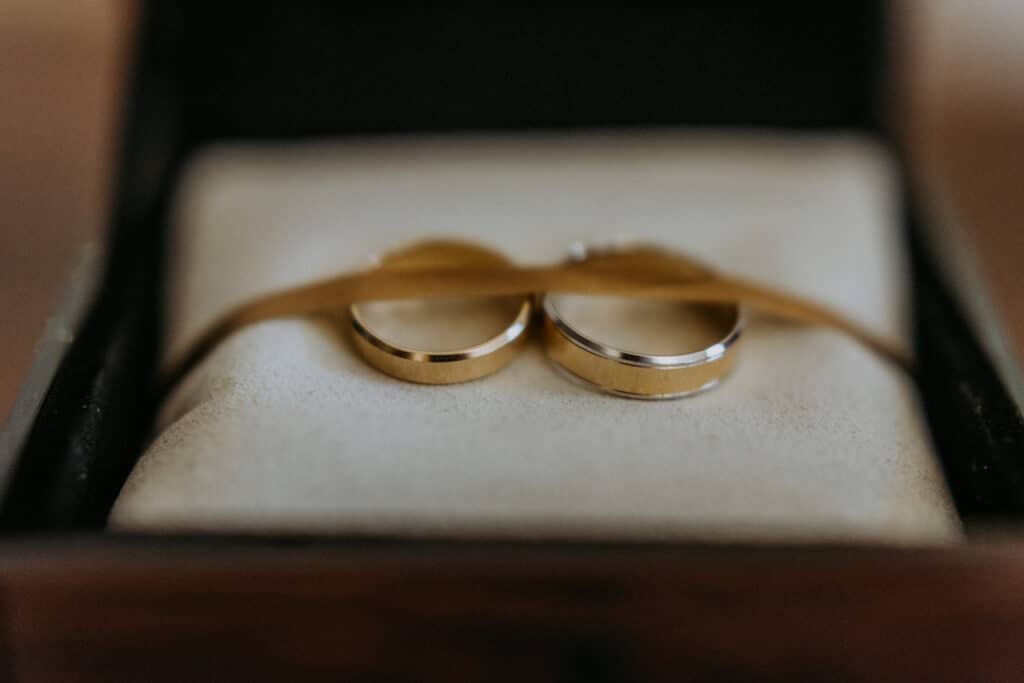 Also in other cultures, many brides opt out of wedding bands entirely and stick with just the engagement ring. This trend has found its way into the states and is becoming more and more popular.
How to Decide Who Pays
While it was once considered standard to pay for your other half's wedding band, this is no longer always the case. Here are some ways you could determine who buys the wedding bands:
Stick to Tradition: If you want to stick to American tradition for wedding bands, the groom (potentially with his family) will pick out and purchase the bride's engagement and wedding bands. The bride and her family will purchase the groom's band.
Split the Cost: There are so many costs involved in a wedding, it's often easiest to simply split the cost between families. In that case, you might choose to pick out and purchase the rings together and divide the overall cost (keep in mind women's engagement rings tend to be more expensive than men's).
Purchase Your Own: If you aren't keen on your significant other picking out and purchasing your wedding band for you, purchase it yourself! That way, you get complete freedom.
Opt for an Engagement Ring Only: Many brides are choosing to forego the wedding band that stacks with their engagement ring. A good mix of modern and traditional is to opt out of the wedding band for the bride and have the groom purchase the bride's engagement ring and the bride purchase the groom's wedding ring.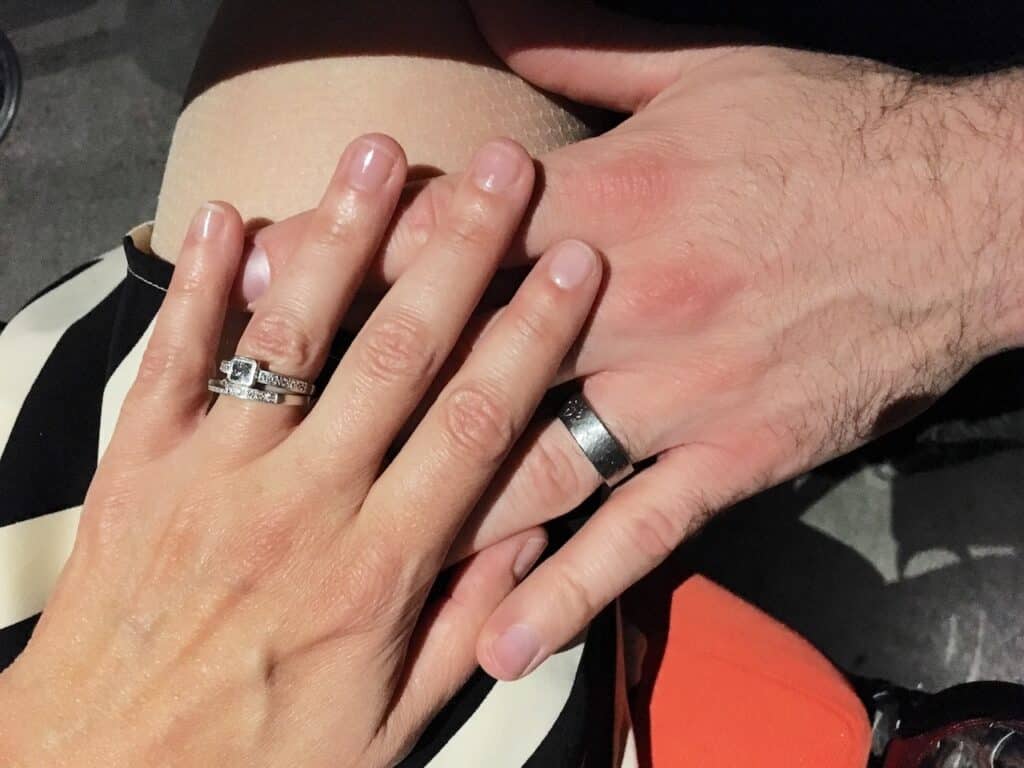 Benefits of Modern Options
The flexibility of modern wedding band shopping brings several advantages, including:
Shopping with your partner together for unique, sentimental wedding bands and creating memories in doing so.
Picking a style you know you'll love for the rest of your life.
Having open communication and conversations around finances with your partner.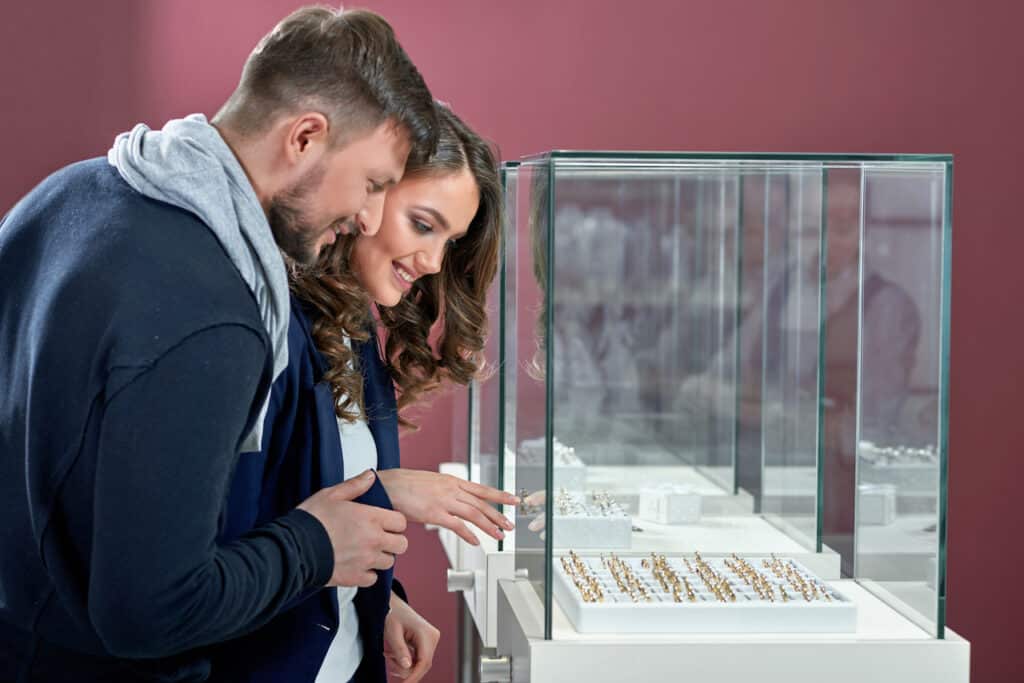 Who Picks Out the Wedding Band?
Picking out the wedding bands is a decision that's best left to each couple to make. Some people may prefer to pick the ring themselves, while other brides and grooms may be more free-spirited or truly want to be surprised by their wedding band.
Traditionally, there were fewer options for wedding bands than there are today. So, it's best to take a modern approach to choosing what you love in a style that will be timeless, just like your love.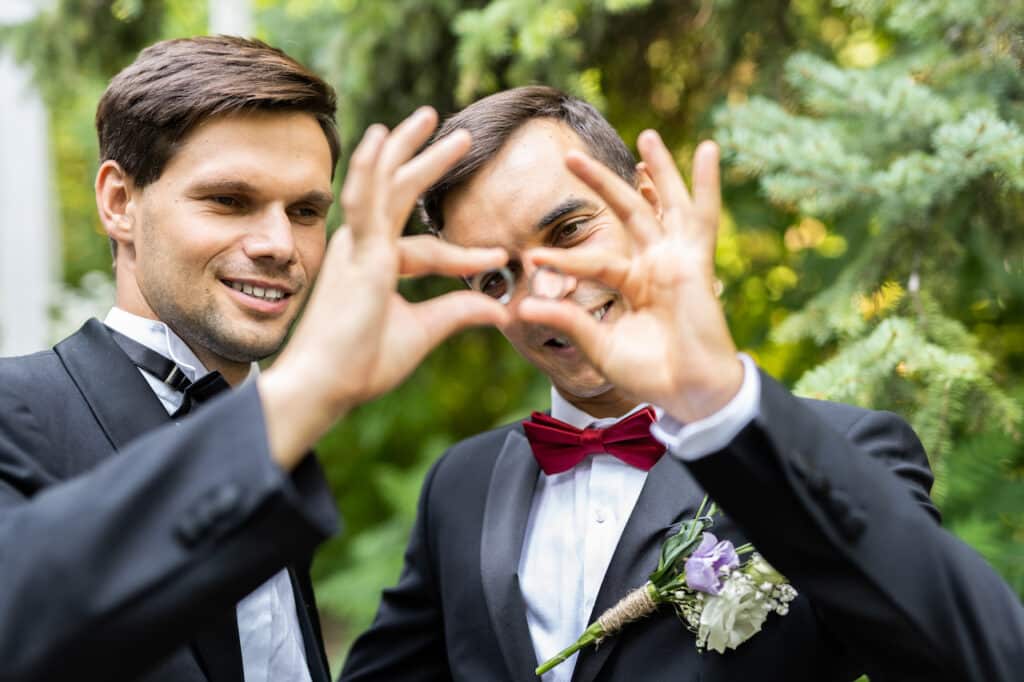 Ultimately, talking it out with your partner is the best solution. Whether you decide to have parents chip in for the bands, the bride and groom splitting the cost, or no rings at all, there's no wrong answer when it comes to your wedding!
Now that you've got the rings covered, check out Marinaj's wedding venues for your big day. We offer three beautiful venues to choose from, including the Royal Ballroom, Crystal Ballroom, and the outdoor Veranda.