Reserve what you need
| Features | Classic |
| --- | --- |
| Ballroom | |
| Banquet Style Set up * | |
| Two Course Dinner | BUFFET |
| Two Course Dinnerware | |
| TV & Slideshow Projector | |
| Professional DJ/MC | |
| Custom Lighting Package | |
| $1000 Hosted Bar | |
| Tray Passed Hors d'oeuvres | |
| Photography/Videography | |
| Custom 3 Tier Cake | |
| Dessertware | |
| Candy Bar Buffet | |
| Marinaj Signature Centerpieces | |
| Features | Signature |
| --- | --- |
| Ballroom | |
| Banquet Style Set up * | |
| Two Course Dinner | PLATED |
| Two Course Dinnerware | |
| TV & Slideshow Projector | |
| Professional DJ/MC | |
| Custom Lighting Package | |
| $1000 Hosted Bar | |
| Tray Passed Hors d'oeuvres | |
| Photography/Videography | |
| Custom 3 Tier Cake | |
| Dessertware | |
| Candy Bar Buffet | |
| Marinaj Signature Centerpieces | |
| Features | Custom * |
| --- | --- |
| Ballroom | |
| Banquet Style Set up * | |
| Two Course Dinner | |
| Two Course Dinnerware | |
| TV & Slideshow Projector | |
| Professional DJ/MC | |
| Custom Lighting Package | |
| $1000 Hosted Bar | |
| Tray Passed Hors d'oeuvres | |
| Photography/Videography | |
| Custom 3 Tier Cake | |
| Dessertware | |
| Candy Bar Buffet | |
| Marinaj Signature Centerpieces | |
* Pick any four of the unchecked items in the column.
| | | | Pick any four of the unchecked items in the column |
| --- | --- | --- | --- |
| Features | Classic | Signature | Custom |
| Ballroom | | | |
| Banquet Style Set up * | | | |
| Two Course Dinner | BUFFET | PLATED | |
| Two Course Dinnerware | | | |
| TV & Slideshow Projector | | | |
| Professional DJ/MC | | | |
| Custom Lighting Package | | | |
| $1000 Hosted Bar | | | |
| Tray Passed Hors d'oeuvres | | | |
| Photography/Videography | | | |
| Custom 3 Tier Cake | | | |
| Dessertware | | | |
| Candy Bar Buffet | | | |
| Centerpieces | | | |
Dinner Menu
Choose from our selection of menus or let them inspire your imagination.
MARINAJ SIGNATURES
SALAD
---
Garden Greens or Classic Caesar Salad
MAIN ENTREE
---
Chicken Marsala
Roasted chicken with red wine mushroom sauce
Chicken Picatta
Roasted chicken with fresh lemon-caper sauce
6-hour Braised Short Rib
with black peppercorn Demi-glace
Roasted Salmon
with lemon-caper sauce
PAIRINGS
---
Fresh baked garlic bread stick or dinner roll
And
Mashed red potatoes, steamed white rice, rice pilaf or garlic roasted potatoes
And
seasonal vegetables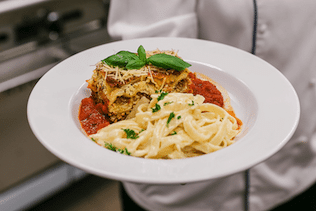 ITALIAN CLASSICS
SALAD
---
Garden Greens or Classic Caesar Salad
MAIN ENTREE
---
Lasagna
Sheets of fresh pasta with Bolognese and imported ricotta from Italy
Penne Pesto
Imported penne pasta in creamy pesto sauce with sundried tomatoes and fresh spinach
Fettuccini Chicken Alfredo
Imported fettuccini pasta in creamy Alfredo sauce
PAIRINGS
---
Fresh baked garlic bread stick or dinner roll
And
seasonal vegetables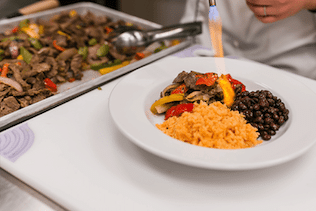 TRADITIONAL LATIN
SALAD
---
Garden Greens
Classic Caesar Salad
Chips & house made salsa
MAIN ENTREE
---
Chicken Fajitas
Made traditionally with carred peppers and onions
50-ingredient Mole
rich deep flavor from the heart of Mexico
Birria de Res
Slow cooked, tender beef made with roasted chilies
PAIRINGS
---
Choose Two:
Peruvian refried beans
Braised Peruvian beans
Braised black beans
Spanish rice
Cilantro-lime rice
HORS D'OEUVRES & LATE NIGHT SNACKS
Choose from our selection of menus or let them inspire your imagination.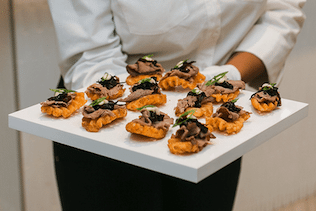 TRAY PASSED
HORS D'OEUVRES
VEGETABLE
---
Heirloom Tomato and Burratta Tartlets
Maldon salt and extra virgin olive oil
Crispy Vegetable Spring Rolls
with Mae Ploy sweet chili sauce
Vegetable Potstickers
sweet soy glaze, green onion and sesame seeds
Roasted Corn Quesadilla
Green chilies, chipotle crème and micro cilantro
Herbed Goat Cheese Crostini
Roasted grapes, walnuts and balsamic glaze
MEAT / POULTRY
---
Deconstructed Buffalo Wings
Celery spear and blue cheese pedestal
Mini Sliders
cheese burger with chipotle mayo or BBQ pulled pork
Fried Chicken & Waffle
Creamed maple butter
Corn Dog Pops
with mustard & ketchup on a stick
Steakhouse Bites
Roast beef, caramelized onion jam, horseradish, waffle fry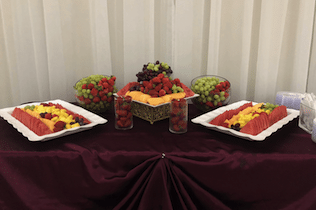 STATIONARY
HORS D' OEUVRES
THE CLASSICS
---
Imported Cheese & Charcuterie
Cheeses, cured meats, fresh and dried fruits with crackers
Domestic Delicacies
Domestic cheeses with deli meats and crackers
Shrimp Cocktail on Ice
Chilled shrimp artfully displayed in a bowl carved from ice
THE LIGHT
---
Fresh Fruit and Berries
Sliced fresh fruits, melons, grapes and berries
Seasonal and Exotic Fruits
Towers and trays of seasonal fruits from near and far
Vegetable Crudité
Smoked chipotle dip, sundried tomato aioli & ranch
Agua Fresca
Horchata, Jamaica, Pepino y Limon
THE PLAYFUL
---
Fruit & Chamoy Fountain
Melons, jicama, cucumber, pineapple and other dippers
Custom Bubbly Bar
Sparkling wine or rose with fresh berries or cotton candy
Guacamole & Salsa Bar
Fresh made guacamole and assorted salsas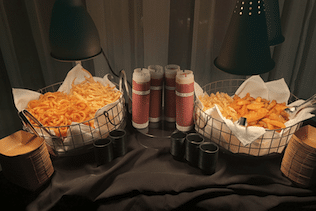 LATE NIGHT SNACKS
Street Taco Bar or Nacho Bar
Street tacos include al pastor, carne asada and adobo pollo. Nachos feature chicken or beef.
Angus Slider Bar
Top with cheese, bacon, pickles, fried onions, ketchup, mustard, mayonnaise and thousand island.
Warm Cookies & Milk
Assorted freshly baked cookies and carafes of regular, chocolate and strawberry milk.
French Fry Station
3 types of French fries (choose from traditional, spiral, wedges, criss-cut and seasoned) with chipotle ketchup, buffalo ketchup, May Ploy Aioli and BBQ Ranch dip.
Loaded Tater Tot Bar
Bacon bits, nacho cheese, jalapeno slices, green onion.
Fresh Churro Station
Churros served hot with chocolate, caramel and strawberry sauce.
OPEN BAR
---
Treat guests to all they can drink, all night long.
HOSTED BAR
---
Allow your guests to choose their drink while you choose your budget.
CASH BAR
---
Offer a fully stocked bar of beer, wine and spirits that are paid for individually.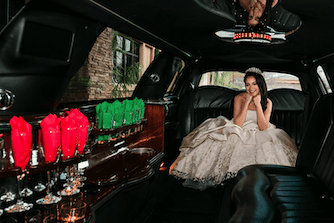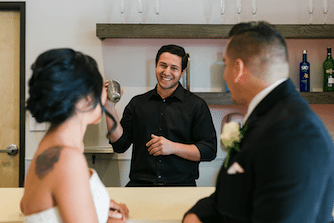 PROFESSIONAL IN-HOUSE PHOTOGRAPHER
We only work with the best to capture your day – remove the stress of managing multiple vendors and let our featured photographer capture memories that will last a lifetime.
CUSTOM EVENT LIGHTING & EFFECTS
Set the ambiance to exceed your expectations with custom lighting to match your color scheme and energy. Feeling extra? Add our Low-Lying Fog Machine to enhance the vibe. Our State-of-the-Art equipment is unmatched. If you want your guests to party – the lighting can enhance the experience.
TREND-SETTING LINEN & CHARGERS
Instead of blending in with the crowd, stand out and impress your guests with trend-setting linen and chargers for your event. We have an abundance of table decor that stays ahead of trends so you can be the first to impress with beautiful, custom designs.
CUSTOM CAKES & DESSERT STATIONS
We take our dessert seriously and our in-house baker @Kitoscakes creates the most beautiful and delicious cakes and more. Swoon-worthy candy and dessert station to satisfy every kind of sweet tooth. Candy and desserts will match your theme and the table will be custom designed for your event.
CEREMONIES
You can choose between an indoor ceremony in your ballroom or an outdoor ceremony in our romantic veranda, both of which offer spacious seating and beautiful surroundings.
CUSTOM INVITATIONS
Invitations set the tone for your event. Send out beautiful tailor-made invites to your guests that will have them anticipate the event of the year – yours.
CUSTOM PROJECTION
Slideshows have never been better thanks to our state-of-the-art projection. Treat your guests to a show of your favorite photos and memories and enhance your event walls with your custom monogram for your big day!
ENTERTAINMENT
Reserving our in house DJ/MC services for your special occasion ensures a flawless mix and provides peace-of-mind knowing that your guests are going to have a good time.