Ballroom Packages
| Features | Classic |
| --- | --- |
| Ballroom | |
| Banquet Style Set Up * | |
| Two Course Dinner | BUFFET |
| Security | |
| TV & Slideshow Projector | |
| Cake Cutting Services | |
| Professional DJ/MC | |
| Custom Lighting | |
| $1000 Towards Hosted Bar | |
| Unlimited Soft Drinks | |
| Champagne or Cider Toast | |
| Tray Passed Hors d'oeuvres | |
| Full Stage | |
| Centerpieces | |
| Features | Signature |
| --- | --- |
| Ballroom | |
| Banquet Style Set Up * | |
| Two Course Dinner | PLATED |
| Security | |
| TV & Slideshow Projector | |
| Cake Cutting Services | |
| Professional DJ/MC | |
| Custom Lighting | |
| Hosted Bar: $1000 CB/$1500 RB | |
| Unlimited Soft Drinks | |
| Champagne or Cider Toast | |
| Tray Passed Hors d'oeuvres | |
| Full Stage | |
| Centerpieces | |
| Features | Custom * |
| --- | --- |
| Ballroom | |
| Banquet Style Set up * | |
| Two Course Dinner | |
| Security | |
| TV & Slideshow Projector | |
| Cake Cutting Services | |
| Professional DJ/MC | |
| Custom Lighting | |
| $1000 Towards Hosted Bar | |
| Unlimited Soft Drinks | |
| Champagne or Cider Toast | |
| Tray Passed Hors d'oeuvres | |
| Full Stage | |
| Centerpieces | |
* Pick any four of the unchecked items in the column.
| Features | Classic | Signature |
| --- | --- | --- |
| Ballroom | | |
| Banquet Style Set up * | | |
| Two Course Dinner | BUFFET | PLATED |
| Security | | |
| TV & Slideshow Projector | | |
| Cake Cutting Services | | |
| Professional DJ/MC | | |
| Custom Lighting | | |
| $1000 Towards Hosted Bar | | |
| Unlimited Soft Drinks | | |
| Champagne or Cider Toast | | |
| Tray Passed Hors d'oeuvres | | |
| Full Stage | | |
| Centerpieces | | |
* Banquet Style Setup Includes – Event set up, banquet tables, head table, gift table, sign in table, dinner & dessert tables, premium chairs, dinnerware, flatware, stemware, standard chargers, table linen, linen napkins, table beverage.
All Packages Include 7 Hours of Event Time: 5:00pm-12:00am
Dinner Menu
Choose from our selection of menus or let them inspire your imagination.
MARINAJ SIGNATURES
SALAD
---
Garden Greens or Classic Caesar Salad
MAIN ENTREE
---
Chicken Marsala
Roasted chicken with red wine mushroom sauce
Chicken Piccata
Roasted chicken with fresh lemon-caper sauce
Pan-Roasted Chicken
with chardonnay velouté sauce
6-hour Braised Boneless Beef Short Rib
with cabernet sauvignon demi-glace
Wild Pan Roasted Salmon
with chardonnay lemon-caper sauce
PAIRINGS
---
Fresh baked garlic bread stick or dinner roll
And
Mashed red potatoes, steamed white rice, rice pilaf or garlic roasted potatoes
And
seasonal vegetables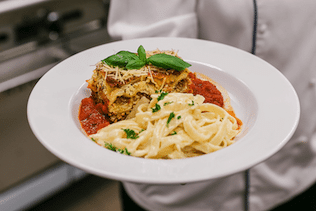 ITALIAN CLASSICS
SALAD
---
Garden Greens or Classic Caesar Salad
MAIN ENTREE
---
Lasagna Bolognese
Sheets of fresh pasta with Bolognese sauce and seasoner ricotta cheese
Farfalle Pesto
Imported bowtie pasta in creamy pesto sauce with blistered tomatoes and fresh spinach
Penne Chicken Alfredo
Imported penne pasta in creamy Alfredo sauce
PAIRINGS
---
Fresh baked garlic bread stick or dinner roll
And
seasonal vegetables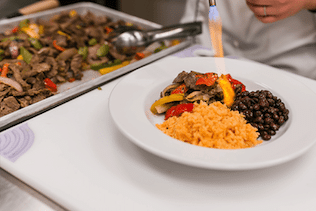 TRADITIONAL LATIN
STARTER
---
Garden Greens
Roasted Poblano Caesar Salad
or
Chips & house made salsa
MAIN ENTREE
---
Chicken Fajitas
Made traditionally with charred peppers and onions
50-ingredient Mole
Breast or thigh, smothered in rich, deep flavor from the heart of Mexico
Birria de Res
Slow cooked, tender beef made with roasted chilies
PAIRINGS
---
Served with freshly made, warm corn tortillas
Choose Two:
Peruano beans (refried or braised)
Braised black beans
Spanish rice
Cilantro-lime rice
HORS D'OEUVRES & LATE NIGHT SNACKS
Choose from our selection of menus or let them inspire your imagination.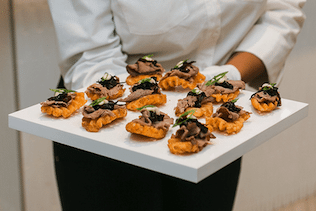 TRAY PASSED
HORS D'OEUVRES
Crispy Vegetable Spring Rolls
with Mae Ploy sweet chili sauce
Southwestern Quesadilla
Roasted corn, black beans, chilies & cilantro-lime crema
Herbed Goat Cheese Crostini*
Roasted grapes, walnuts & balsamic glaze
Spanakopita
Crisp phyllo, spinach and cheese
Smoked Bacon Grilled Cheese
Crispy, cheesy, classic
Smoked Salmon Canape
Smoked salmon, mustard-dill, red onion & fried capers
Fried Chicken & Waffle
with creamed maple butter
Corn Dog Pops
with mustard & ketchup on a stick
Steakhouse Bites
Roast beef, caramelized onion jam, horseradish, waffle fry
Elote Toast
Roasted corn, Mexican crema, cotija, cilantro
Tuna Tataki Wonton
Seared ahi tuna, crispy wonton, avocado, salsa verde yuzu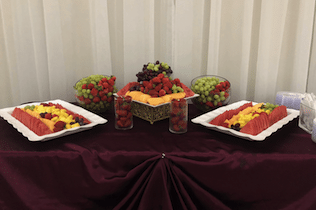 STATIONARY
HORS D' OEUVRES
THE CLASSICS
---
Imported Cheese & Charcuterie
Cheeses, cured meats, fresh and dried fruits with crackers
Domestic Delicacies
Domestic cheeses with deli meats and crackers
Ceviche de Camaron on Ice
Shrimp Ceviche artfully displayed in a carved ice bowl
THE LIGHT
---
Fresh Fruit and Berries
Sliced fresh fruits, melons, grapes and berries
Seasonal and Exotic Fruits
Towers and trays of seasonal fruits from near and far
Vegetable Crudité
Smoked chipotle dip, sundried tomato aioli & ranch
Agua Fresca
Horchata, Jamaica, Pepino y Limon
Perfect for non-alcoholic cocktail hour!
THE PLAYFUL
---
Fruit & Chamoy Fountain
Mango, jicama, cucumber, pineapple and other dippers
Custom Bubbly Bar
Sparkling wine or rose with fresh berries or cotton candy
Guacamole & Salsa Bar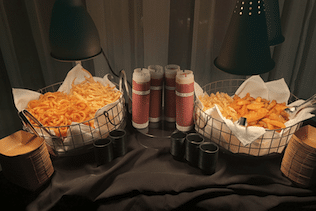 LATE NIGHT SNACKS
Boba Milk Tea Bar
Thai tea, taro and milk tea with brown sugar boba
Street Taco Bar
Al pastor, carne de res & pollo tacos served by attendant
Warm Cookies & Milk
Assorted freshly baked cookies and carafes of regular, chocolate and strawberry milk.
French Fry Station
Assorted French Fries with house made ketchups: chipotle ketchup, buffalo ketchup, curry ketchup & more.
Pan Dulce & Hot Chocolate Station
Assorted conchitas, Abuelita hot chocolate & coffee.
Fresh Churro Station
Warm churros with chocolate, caramel & strawberry sauce
Chinese Take-Out Bar $
Crispy kung pao or orange chicken & sticky jasmine rice served in mini-Chinese take-out boxes with a fortune cookie
Hot Diggity Dogs
All Beef hot dogs, charred peppers, jalapeños & onions
OPEN BAR
---
Treat guests to all they can drink, all night long.
HOSTED BAR
---
Allow your guests to choose their drink while you choose your budget.
CASH BAR
---
Offer a fully stocked bar of beer, wine and spirits that are paid for individually.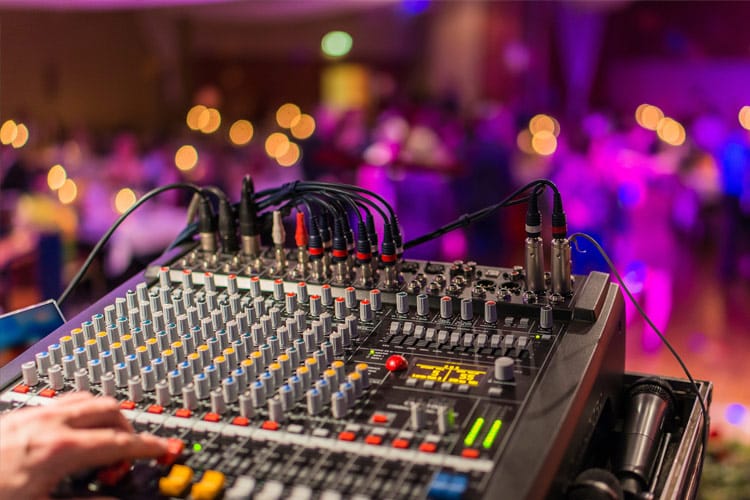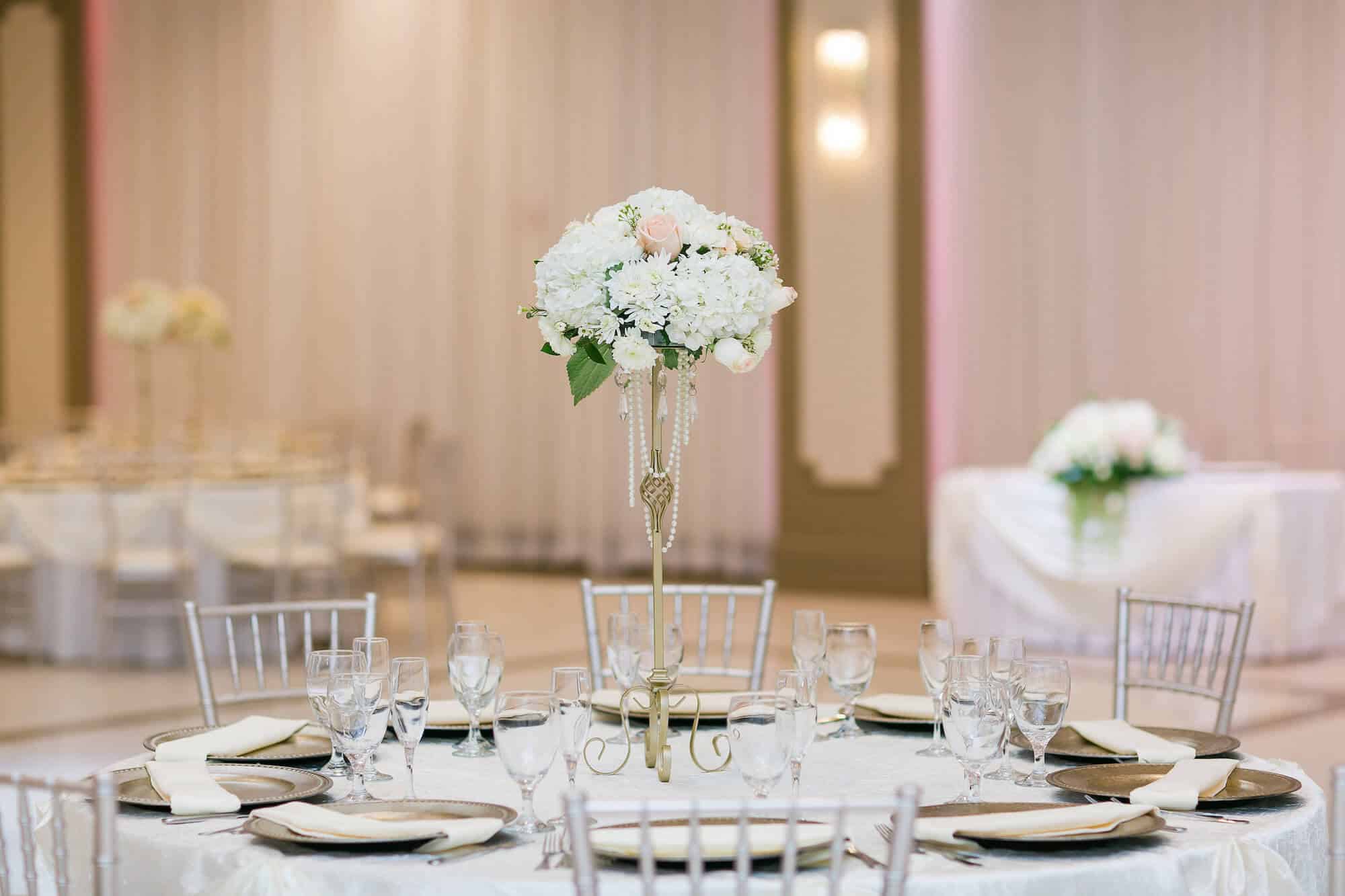 CUSTOM EVENT LIGHTING & EFFECTS
Set the ambiance to exceed your expectations with custom lighting to match your color scheme and energy. Our State-of-the-Art equipment is unmatched. If you want your guests to party – the lighting can enhance the experience.
TREND-SETTING LINEN & CHARGERS
Instead of blending in with the crowd, stand out and impress your guests with trend-setting linen and chargers for your event. We have an abundance of table decor that stays ahead of trends so you can be the first to impress with beautiful, custom designs.
CEREMONIES
You can choose between an indoor ceremony in your ballroom or an outdoor ceremony in our romantic veranda, both of which offer spacious seating and beautiful surroundings.
CUSTOM PROJECTION
Slideshows have never been better thanks to our state-of-the-art projection. Treat your guests to a show of your favorite photos and memories and enhance your event walls with your custom monogram for your big day!
ENTERTAINMENT
Reserving our in house DJ/MC services for your special occasion ensures a flawless mix and provides peace-of-mind knowing that your guests are going to have a good time.