Your wedding dress is a central feature of your special day—no pressure! Choosing the right dress is so important (and yes, stressful). In this post, we'll go over what classifies as a timeless wedding dress and how to choose a style that will last a lifetime.
What is a Timeless Wedding Dress?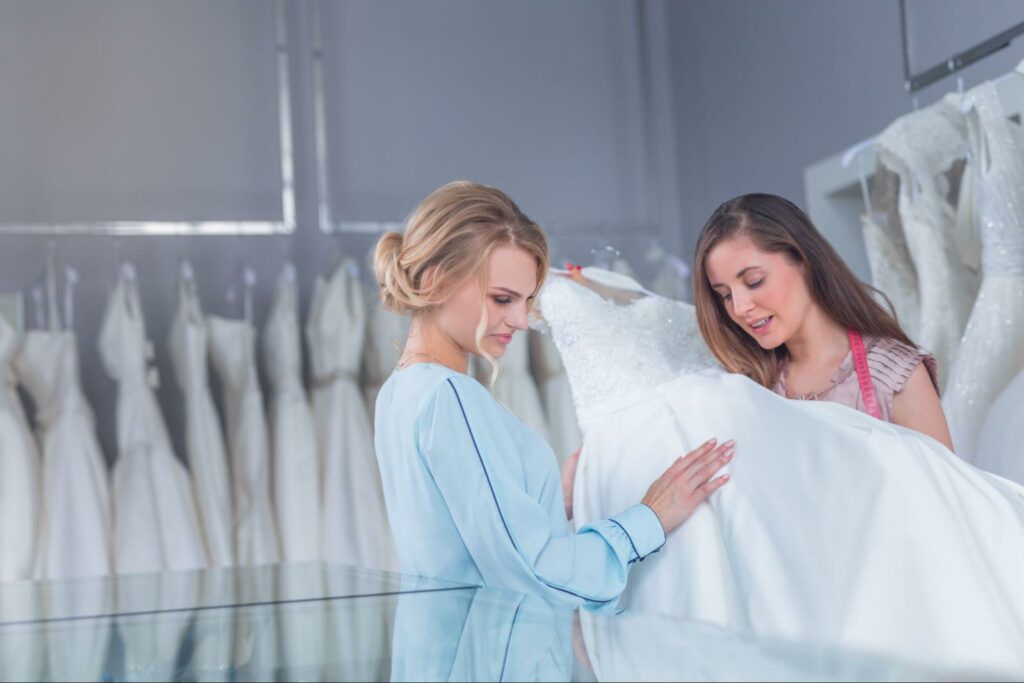 Choosing a timeless wedding dress means picking a dress that will remain beautiful over the years yet still embodies modern fashion and style trends. The last thing you want is to look back on your wedding photos and cringe because you chose a dress that was too trendy, an unconventional color, or ill-fitting.
Why Should I Pick a Timeless Dress?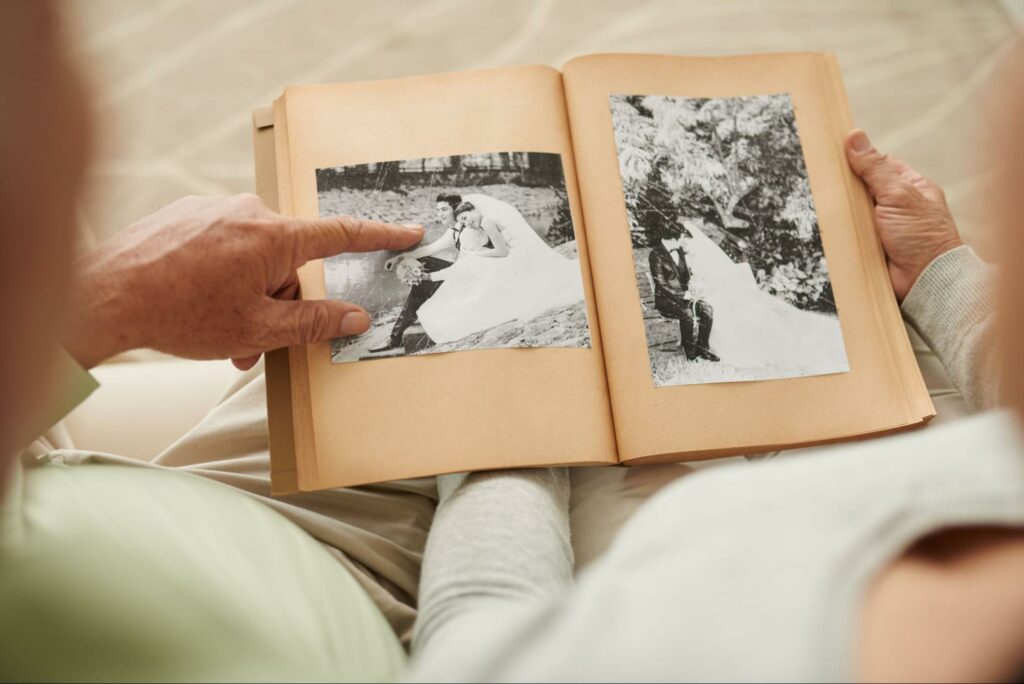 You want your dress to last as long as your love—forever. Choosing a timeless wedding dress ensures you will always look back fondly on your big day. Hopefully, your face will beam with pride when you show your dress to your children, grandchildren, and great-grandchildren—some may even ask to borrow it!
How to Choose a Timeless Dress
Shopping for a wedding dress can quickly become overwhelming. With all the beautiful styles and types to choose from, it can be hard to pick the one. Some brides even say there are too many overwhelming options! Check out these style tips to consider when shopping for a timeless dress:
Simple is not Boring: Don't think of simple styles as dull. Classic and simple wedding dresses are both elegant and timeless. You can easily jazz up a traditional or plain wedding dress with unique jewelry and colorful floral hairpieces.
Lace or Satin: When wedding dress shopping, one thing to pay attention to is the materials and fabrics. Classic fabrics such as lace and silk work beautifully for the timeless and elegant bride.
Sleeves: A dress with sleeves will undoubtedly remain in style for years to come. Recent wedding dress trends often do not have sleeves, so picking a wedding dress with sleeves is a great way to keep your look timeless and classy. Lace sleeves have been popular for many years since Kate Middleton wowed everyone with her lace sleeves at the Royal Wedding!
Veils: Veils are always timeless and one of the classic elements of bridal fashion. If you want to add a little personal touch to your classic bridal look, the veil is a great place to do so. Lace, flowers, rhinestones, sparkles—you name it, they have a veil with it!
Where to Buy a Timeless Dress
There are several options for stores and shops that sell gorgeous, timeless wedding gowns. Here are a few of our favorites!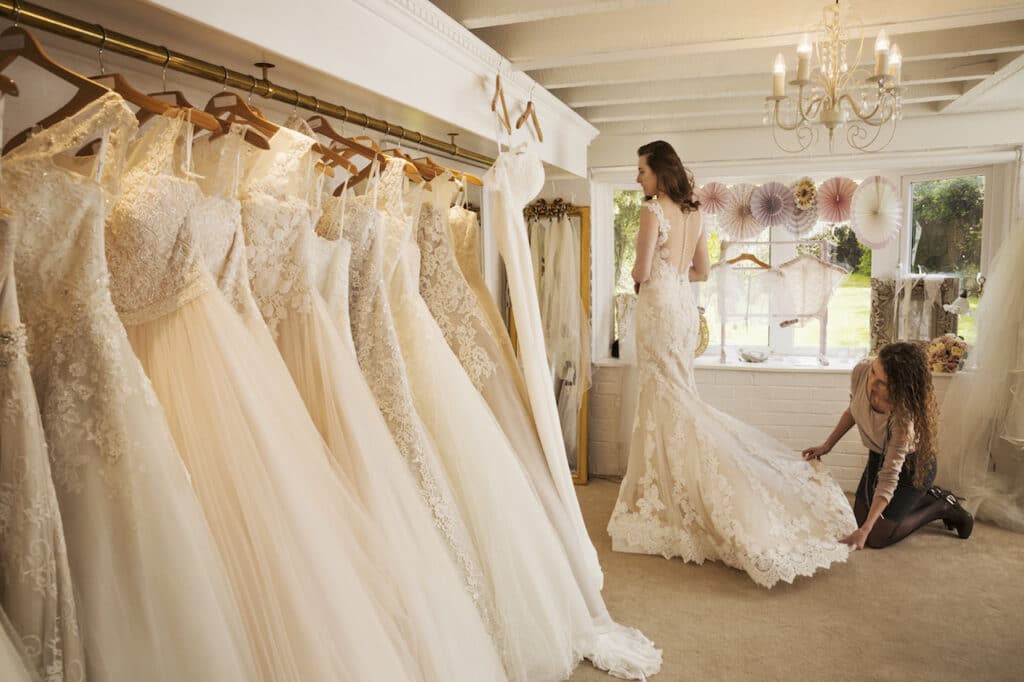 BHLDN by Anthropology (online): BHLDN has a wide variety of silhouettes and fabrics to choose from for your timeless dress. They even offer virtual styling appointments to make sure you get the gown of your dreams.
Ferndales Bridal (local): This Orange County favorite offers hundreds of classic designs with a unique twist to fit your style. They feature gowns from top designers, including Maggie Sottero and Morilee.
ASOS (online): While ASOS has long been known for its cutting-edge streetwear, the brand also stands as a top contender for timeless wedding dress options.
Lulus (online): This popular budget-friendly site features an appealing selection of timeless wedding gowns that are sure to stand out on your big day.
Arlet Bridal (local): Arlet Bridal has become a Southern California hot spot for a reason. With the largest selection of plus-size designer dresses in the Inland Empire, this shop offers stunning options for every bride.
Next Steps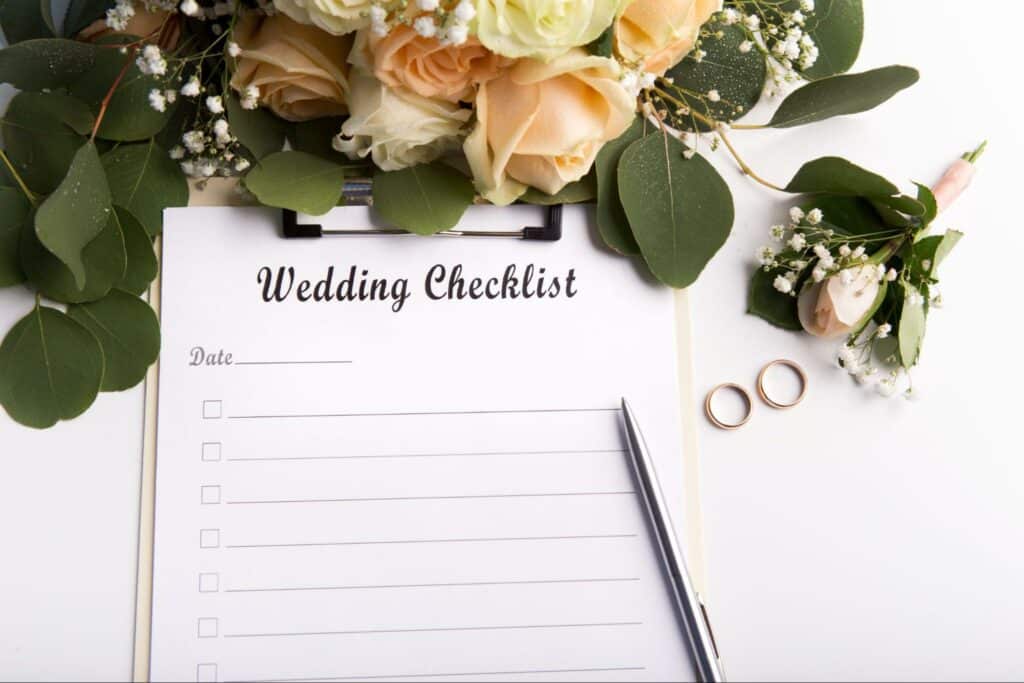 Now that you've found the dress of your dreams, have you booked the venue of your dreams? Future brides and grooms love Marinaj Banquets & Events. We offer three uniquely beautiful venue options to match your personal style, dress, and wedding day visions!