Indian Weddings
Every culture has its wedding traditions, but Indian weddings stand out among them. An Indian wedding is a beautiful series of celebrations, each one playing a role in preparing the husband and wife for a lifetime of prosperity. It is a marriage between two families as much as it is a marriage between two individuals.

The Marinaj Banquets and Events team has experience hosting Indian weddings and other traditional celebrations. We offer spacious venues suitable for a large Sangeet, an outdoor ceremony under a Mandap or an elaborate reception feast. The Crystal Ballroom and the Veranda are suitable for an intimate pre-wedding Mehndi party.

With both the facilities and the experience required to plan and execute a successful event, Marinaj is the perfect choice for an unforgettable Indian wedding.
Indian Wedding Venue Specialists In Riverside County
Finding a quality Indian wedding venue in Riverside County can be a challenge. While many hosts will claim to offer custom wedding services for your event, we at Marinaj understand that hosting a successful Indian wedding in America requires an experienced team. With years of experience, our staff strives to create an event that showcases your personalities while also honoring Indian traditions.

When planning an Indian wedding, we understand there are a number of important cultural components that must be featured at each event. Marinaj's luxury ballrooms feature spacious entrances for the Baarat, the Veranda for an outdoor ceremony, and oversized dancefloors for grand performances. Since Marinaj Banquets & Events is a multi-ballroom facility, each venue offers a different look and feel to ensure each event is given its own aura.
---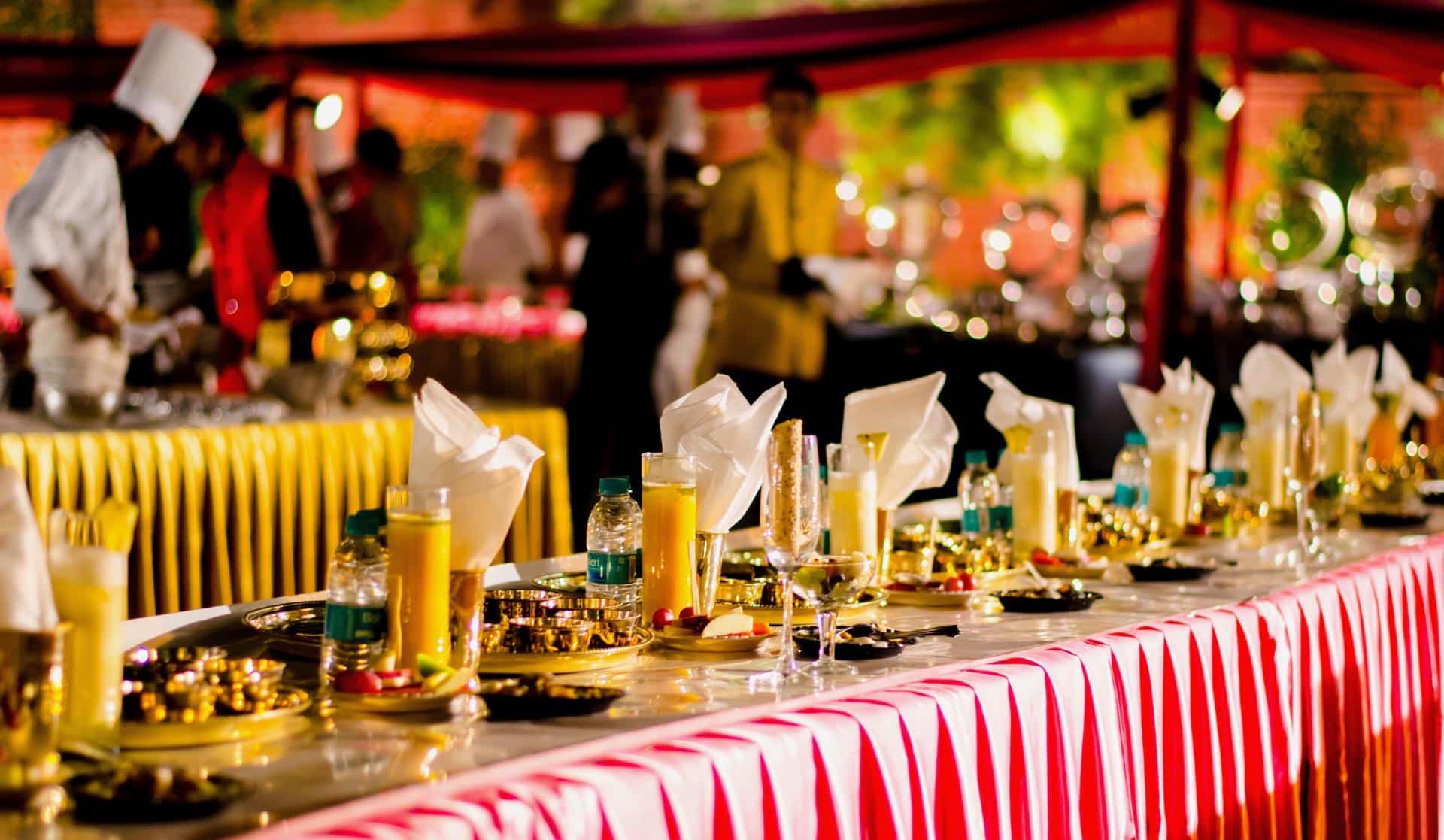 Create The Perfect Wedding
Large wedding venue spaces. The spacious ballrooms for large parties of 300-500 guests and ample service staff allow ensure the comfort of your guests.
Live performances. Our wedding spaces feature oversized dance floors for a Garba or other performances. Each ballroom can also be fitted with a stage for live music.
Set the mood. Our venues feature customizable lighting, multiple options for grand entrances, VIP room for a private Mehndi, and stage options for a picture-perfect head table.
Indian cuisine. Food is a central component of any Indian wedding. In addition to our standard offerings, our culinary team has created unique Indian-inspired tray passed hors d'oeuvres and modern Indian dishes. If traditional dinner is what you seek, we welcome licensed Indian caterers to provide authentic Indian buffets.
Are you planning an Indian wedding in Riverside County? If so, get in touch with our friendly event advisors to learn more about how you can host the Indian wedding of your dreams here at Marinaj Banquet and Events.
---