Bridal showers are the perfect pre-wedding bash for all the bride-to-be's best gal pals to come together and celebrate. From a more intimate gathering with close friends to an all-out party with all your family and friends, any bridal shower is sure to ring in the wedding bells and get everyone excited for the big day.
Whether you're hosting your own bridal shower or throwing one for a friend, here are some perfect bridal shower themes for 2020 that can help get you started:
1.  Pajama Party 
If you're looking for a relaxed, laid-back bridal shower theme, then hosting a pajama party could be just what the doctor ordered. After all, who doesn't love relaxing in their favorite PJs for an evening of girl-talk and snacks? You might choose to hold an event like this at the bride's home, but nothing is stopping you from going all out and hosting it in a plush hotel room.
The best part about pajama party bridal showers is that you have so many fun activities to choose from. You could style each other's hair, paint nails, and just reminisce about good times together. As for food, pizza and ice cream are must-haves!
2. Brunch and Champagne 
If the bride is more of a morning girl, then a brunch and champagne bridal shower theme could be the perfect celebration. There's nothing too complicated or overdone at this kind of bridal shower—it's just brunch and champagne with your favorite gals!
For food, you may consider finger-food versions of stuffed french toast, fruit, or cinnamon rolls. Make sure that all of your guests have a champagne flute, of course, and you'll definitely want to make the popping of the cork an event in itself.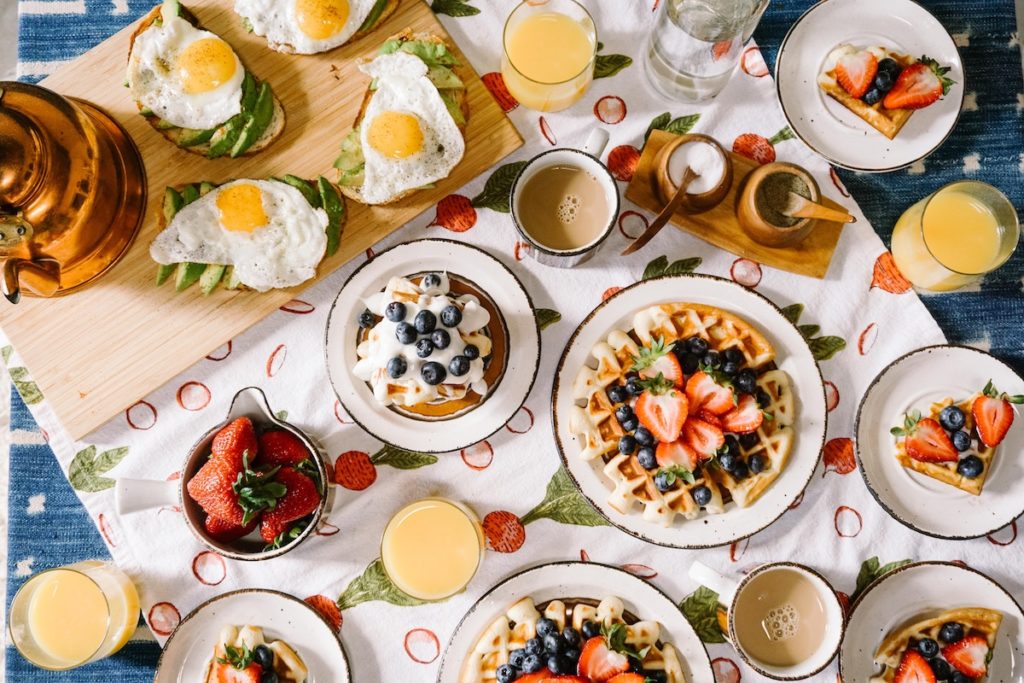 3. Fun in the Sun
A beach-themed bridal shower is perfect for friends who—in the midst of all that stressful wedding planning—just need a break to relax and enjoy some time together.
When it comes to a beach-themed party, the world is your oyster (pun intended). And for brides in the LA and OC area, you have the perfect setting for your get together—the beach itself! For refreshments, you could prepare a variety of seafood dishes, like crab cakes and lobster tail, or you could create mermaid-inspired cupcakes. If the bride is honeymooning somewhere tropical, you could even bring cute swimsuits as a gift instead of lingerie!

4. Tea Party
Tea party-themed bridal showers can be a tremendous amount of fun, giving you the opportunity to indulge in a spot of tea, some obligatory cucumber sandwiches with the crusts lovingly removed, and British scones with jam and cream.
Tea parties are perfect for brides who enjoy classy foods and chatting with friends. Plus, you can serve everything on adorable tea sets or even give out teacups as a shower favor!
5. Great Gatsby-inspired
Given that we've just entered a new decade of twenties, it seems fitting that Great Gatsby-style bridal shower themes are becoming more popular.
This theme is a throwback to the era of hope and prosperity before the Wall Street Crash, and it's all about the glitz and the glam! Don't be afraid to hire a luxurious venue and use lots of black and gold in your decor. You might even consider an open bar to really get into the spirits of the 1920s.
6. Winter Wonderland
Hosting a bridal shower in the middle of winter can be a bit of a challenge, especially if the weather is too cold to do anything outside. What's nice about a winter wonderland theme is that it embraces the harshness of the season and turns it to your advantage.
Winter wonderland bridal showers are all about the decorations. You want to make use of as much silver sparkle as you possibly can. If you've prepared a spread, put some silver glitter on the tablecloth to emulate snow and place snowflakes all around the venue, anywhere you can. For that extra magical feel, hang white fairy lights from the ceiling.
7. Garden Party
Garden party-themed bridal showers are all about recreating the magical feel of good company on a summer's day in your garden.
For decor, make sure there are lots of fresh blooms around for everyone to admire. As for the menu, keep it summery. Salads, sandwiches, and fruit are all perfect eats for your garden-party-turned-bridal-shower.
Whatever 2020 theme you choose for your bridal shower, remember that it's all about the bride-to-be and her special day. She likely just wants to have a fun celebration with friends and family, so your shower is sure to be a hit if you plan some good old-fashioned together time!
If you're hosting a bridal shower and need the perfect venue for any one of these themes, contact Marinaj Banquets & Events today.